November 25, 2013 | Around the Napa Valley | Alison Cochrane Hernandez
Castello di Amorosa at the Napa Valley Film Festival
Napa Valley is home to a variety of fantastic events throughout the year, and the
Napa Valley Film Festival
is one of the highlights of the fall season. On the second week of November each year, various locations throughout the valley host screenwriters, producers, actors, and moviegoers to showcase some of the best new independent and global cinematic efforts.
"Our vision is to build community around the art of visual story-telling, with the viewing of films and discussions with filmmakers fueling lively conversation amongst old and new friends … and those conversations being enriched with the world-class food and wine of legendary Napa Valley."
We at the Castello always look forward to the festival, and this year we were able to participate as a shooting location for one of the short films in the SONY 4K FILM CHALLENGE! Five teams given the latest SONY tech were given a 60-hour challenge to create a short film based on randomly-assigned topics. Director Paul Martin chose Castello di Amorosa as one of the settings for his short film, "Valentimes Day."
We had a blast with Paul and his crew filming scenes in the Great Hall and our Torture Chamber! Check out some of our behind-the-scenes photos from their shoot: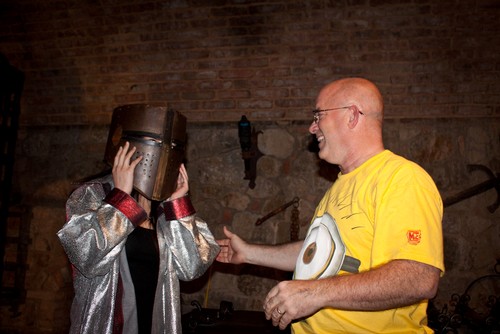 Actress Kai getting used to wearing one of our knights' helmets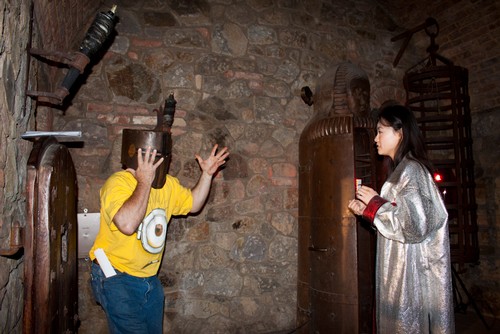 Paul showing her how it's done!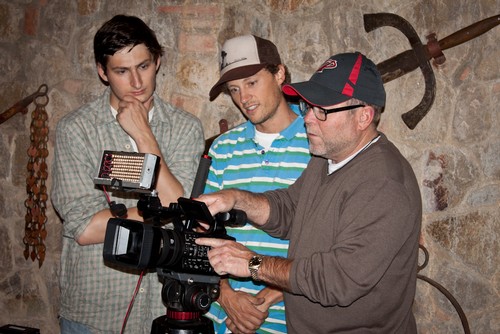 Paul showing his crew around the very latest Sony 4K technology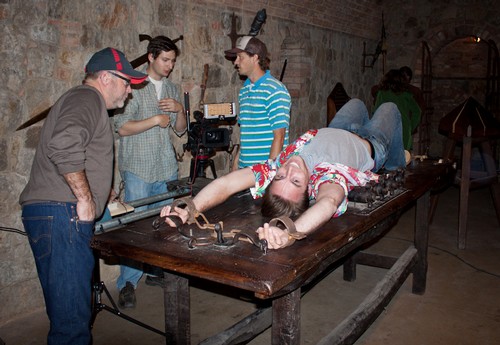 Actor Cameron Mark Lewis on the rack! Don't try this at home!!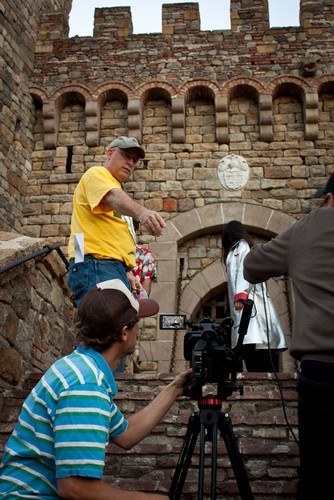 The next day of filming was on the Napa Valley Wine Train. We tagged along for the ride and got to capture more of the action!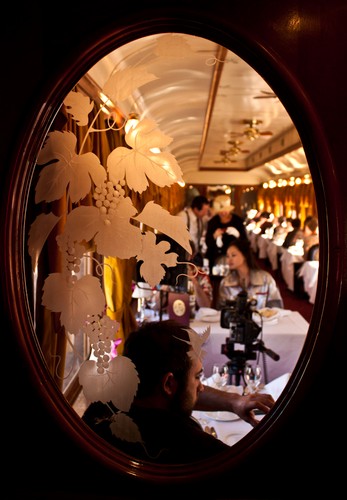 Filming in the Wine Train's beautiful Gourmet Car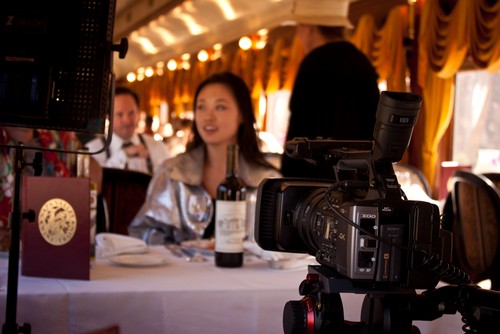 Our 2010 Sangiovese was featured in the film!
Thank you again to Paul and team for letting us be a part of your fantastic production!