May 9, 2014 | Food & Wine | Mary Davidek
Mama Mia!
The great thing about a blog; I am able to write about whatever I am feeling or thinking or what may be inspiring me. Given the time of year and last week's heat wave I considered an esoteric look at grilling and barbecue. But, in all honesty, the outdoor grill has never has been my forte. Cinco de Mayo had possibilities as cuisine from south of the border is infinitely more inspirational to me than a gas grill, a Weber or a hibachi--and practically anything made into a taco is delicious.However, as we approach Mother's Day, I decided to take it home.
My Mom was a great cook which was no minor achievement for an Irish woman who married into an entirely Italian family. I'm not simply referring to pot roast or a weekday casserole. No, she was creative in her use of spices and seasoning. Mom was instinctively technically correct and taught me the importance of making food visually appealing before we had top celebrity chef royalty or cable networks devoted to food with culinary game shows and cooking competitions. As a child I would sit and play quietly each afternoon while my mom watched Julia Child or Graham Kerr aka The Galloping Gourmet. As they explained the dish featured on the episode she would comment "oooh, I think I will try that on Dad's birthday" or "Julia is sure using a lot of cream today!"
My mom was also a great hostess and loved to entertain. Monthly cocktail parties were particularly exciting for me. Although I may not have sampled the libations, the yummy and abundant little treats made for the occasion were so tasty it was just cause for excitement-- especially if mom's delicious mini meatballs were on the menu! I knew while the adults milled about, that evening I would host a private party of one with my own little array of goods. With a Shirley Temple stuffed with more cherries than liquid in hand, off I would go to my bedroom for an evening of sitcoms du jour and yummy bits from the gala. Mom checked on me to replenish my sustenance but eventually I would nod off to the sound of canned laughter from the TV and the comforting banter of my parents and friends enjoying a festive evening in the background.
I guess I inherited mom's love of entertaining and hopefully, her talent of being a great hostess as I have the distinct joy and pleasure of entertaining guests at the Castello on the 'Royal Paring', a food and wine pairing experience. With one of the most beautiful settings in the world as my backdrop, and at times with a lump in my throat, I envision my mom smiling and nodding with approval at a job well done.
Happy Mother's Day.
Salud.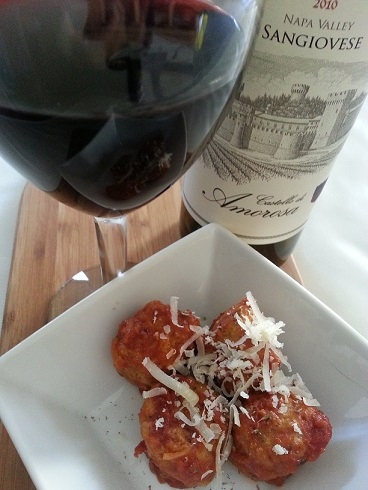 Italian Style Chicken Mini Meatballs
1.5 pound ground chicken 90% dark meat preferred (or Italian chicken sausage removed from casing)
1/2 cup finely grated Parmesan style cheese
1 egg
1 1/2 teaspoons dried or 1 cup chopped fresh basil
1 1/2 teaspoons dried or 1 cup chopped fresh parsley
1 teaspoon garlic powder
1 TBSP sea salt
1/2 teaspoon red pepper flakes
1 -2 Tbs fennel seed
¼ C seasoned Italian bread crumbs (optional, use more grated parm if no bread crumbs used)
Preheat the oven to 400 degrees F.
In a large mixing bowl, combine chicken, grated cheese, egg, basil, parsley, garlic powder, salt, red pepper flakes, fennel and bread crumbs. Using your hands, mix all ingredients until well incorporated. Measure mixture into approximately 1.5-ounce portions. Shape or scoop into rounds and place the meatballs in individual, miniature muffin tin cups. Bake for 15- 20 minutes or until golden and cooked through to an internal temperature of 165 degrees.
Serving suggestions: Toss in a light marinara before serving and sprinkle with additional cheese.