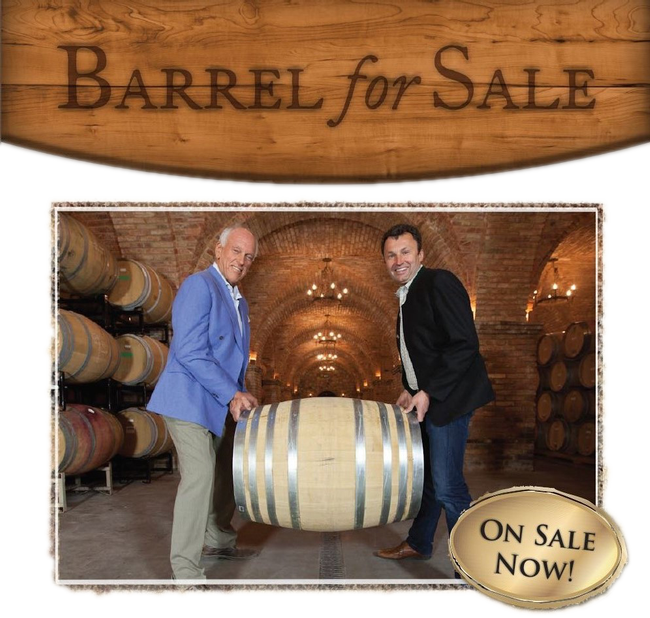 A One-of-a-Kind offer from Il Padrone
Castello di Amorosa is excited to offer an exclusive opportunity for lovers of our Cabernet Sauvignon: now you can purchase it by the barrel! When you purchase a barrel, you receive:
24 cases (288 bottles) of 2017 Napa Valley Cabernet Sauvignon, "La Castellana" Super Tuscan Blend, or "Il Barone" Reserve Cabernet Sauvignon
A personalized barrel head which will be on display in the Il Passito Reserve Room at the Castello
Personalized labels for each individual bottle; makes fantastic corporate gifts or to share with friends and family!
Instant membership in our exclusive Cinquecento Cavalieri Wine Club, which includes an invitation for you and a guest to attend our annual Cinquecento Cavalieri Winemaker's Dinner, where you can hear stories from Il Padrone himself, and Harvest updates from our Winemaker, Brooks Painter.
We send you the French Oak barrel your wine was aged in!
| | | |
| --- | --- | --- |
| | Retail Price | Barrel Price |
| 2017 Napa Valley Cabernet Sauvignon | $15,840 | $11,888 |
| 2017 "La Castellana" Reserve Super Tuscan Blend | $28,224 | $22,579 |
| 2017 "Il Barone" Reserve Cabernet Sauvignon | $28,224 | $22,579 |
Contact our Wine Club at 707-967-6274 or by email at club@castellodiamorosa.com for more information
See accolades for previous vintages of these wines
Acclaim for the 2017 Vintage from Director of Winemaking Brooks Painter:
Winter provided a record-breaking rainfall - a welcome end to the 4-years of drought. Bloom and fruit set in May occurred under ideal conditions – no frost, no rain and no blistering winds to interfere with pollination; just warm sunshine.
Summer was warm but the vines weathered the heat well and maturity moved along at a steady pace. A short but intense heat wave during the first part of September brought brix levels up dramatically and winemakers waited for the pH, acids, flavor and color development in the grapes to catch up to sugar accumulation. The 2017 wine quality shows a lot of bright acidity and fresh varietal aromas in the white wines, and deep color, sweet fruit flavors and firm tannin structure in the reds. Looking like it will be another classic year!