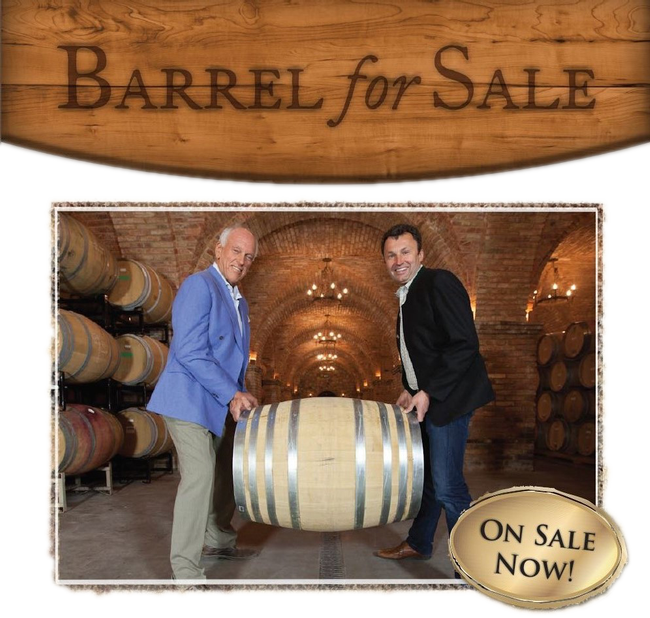 A One-of-a-Kind offer from Il Padrone
Castello di Amorosa is excited to offer an exclusive opportunity for lovers of our Cabernet Sauvignon: now you can purchase it by the barrel! When you purchase a barrel, you receive:
24 cases (288 bottles) of 2021 Napa Valley Cabernet Sauvignon, "La Castellana" Super Tuscan Blend, or "Il Barone" Reserve Cabernet Sauvignon
A personalized barrel head which will be on display in the Il Passito Reserve Room at the Castello
Personalized labels for each individual bottle; makes fantastic corporate gifts or to share with friends and family!
Instant membership in our exclusive Cinquecento Cavalieri Wine Club, which includes an invitation for you and a guest to attend our annual Cinquecento Cavalieri Winemaker's Dinner, where you can hear stories from Il Padrone himself, and Harvest updates from our Winemaker, Brooks Painter.
We send you the French Oak barrel your wine was aged in!
| | | |
| --- | --- | --- |
| Wine | Retail Price | Barrel Price |
| 2021 Napa Valley Cabernet Sauvignon | $18,432 | $14,746 |
| 2021 "La Castellana" Reserve Super Tuscan Blend | $30,528 | $24,422 |
| 2021 "Il Barone" Reserve Cabernet Sauvignon | $30,528 | $24,422 |
Contact our Wine Club at 707-967-6274 or by email at club@castellodiamorosa.com for more information
"The 2021 vintage will be remembered for low yields with intensely-flavored, small-sized berries. The season started off with very little rain, leading to the 2nd year of drought conditions in Napa Valley, While concerning in the long term, the drought of 2021 resulted in a more natural load on the vines, requiring less pruning and dropping of fruit. The resulting grapes are packed full of flavor. Winemakers across the valley are excited about the prospects of the 2021s and it is likely the smaller yields per vine and smaller berry size will result in another amazing vintage from Napa Valley."