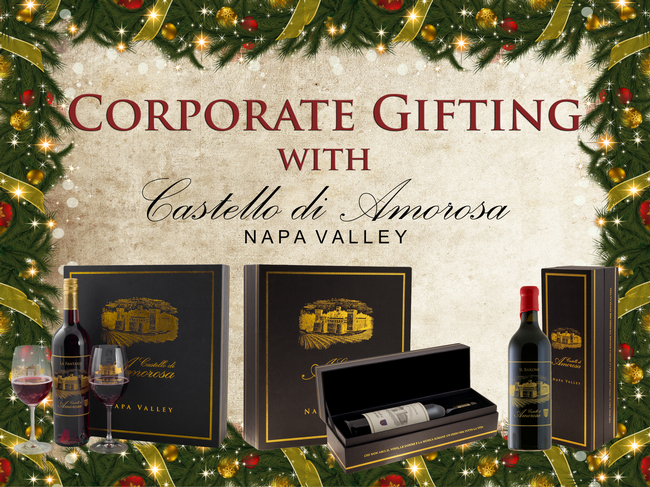 Wow your clients, coworkers, and more by giving them a taste of Napa Valley. Choose from a selection of hand-crafted Castello wines in our beautiful black and gold gift boxes. Exclusive savings for large quantity orders, and for Wine Club members!
Choose from our elegant single bottle black and gold box, or our beautiful gift box including a bottle of Castello wine and two gold etched Castello di Amorosa logo wine glasses.
Choose from a selection of our classic, hand-crafted wines, including:
all available exclusively at our medieval Tuscan castle-inspired winery in Napa Valley.
*for use with orders sent to multiple locations

Discount Rates*
Wine Club Member Discounts Non-Member Discounts
♦ Wine Club Member: 10% ♦ 12 or more sets: 10%
♦ La Principessa Club Member: 15% ♦ 36 or more sets: 12%
♦ Il Padrone Club Member: 18% ♦ 64 or more sets: 18%
♦ Cinquecento Cavalieri Club Member: 20% ♦ 100 or more sets: 20%
*Discount applies to price per wine, not price of total gift set. Cannot be combined. Wine Club Membership must be active to receive member discount rates.
Contact our Wine Club department for questions at 707.967.6274
or via email at club@castellodiamorosa.com