Straight off the presses! An Italian culinary tradition that is hundreds of years old. Olio Nuovo (which means, new oil) differs from your typical Olive Oil. Taken straight from the press this freshly pressed oil has all the natural flavors left inside the oil.
Castello di Amorosa is proud to share with you this extra virgin cold pressed olive oil made exclusively from olives harvested at our own Morning Dew Ranch estate property in the Anderson Valley, Mendocino County. These mature olive trees grow on a small patch of sloped hillside adjacent to some of the Castello's most prized Pinot Noir vines. Under the watchful eyes and with the help of both our Winemaker and Vineyard Manager, the harvest was done by hand on a single foggy morning by the same dedicated team that cares for our grapevines on the secluded and serene ranch. Expected to ship around mid November.
Best as a finishing oil and a dipping oil; enjoy Olio Nuovo drizzled on salads, pasta, salumi and cheese, or over grilled meat or fish. Delicious simply as a dip with salt and bread—treat yourself to a taste of Napa Valley with a bottle of our exclusive Castello di Amorosa Italian olive oil.
Harvest: 11/10/21 - Bottling: 11/18/21
*Limited Time Only*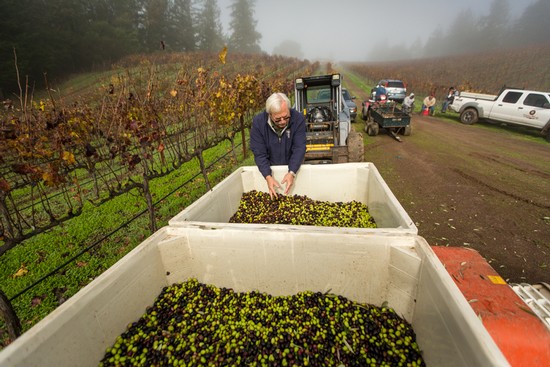 Director of Winemaking Brooks Painter inspects the olive harvest at Morning Dew Ranch