Show off your colors, with this elegant 6 bottle set of Castello wines. This pack pays homage to our Peacocks, who roam the grounds of The Castello. From White wines to Rosé wines, our Peacock pack showcases our brightest colors and flavors.
*$10 Shipping*
Cannot be combined with other discounts.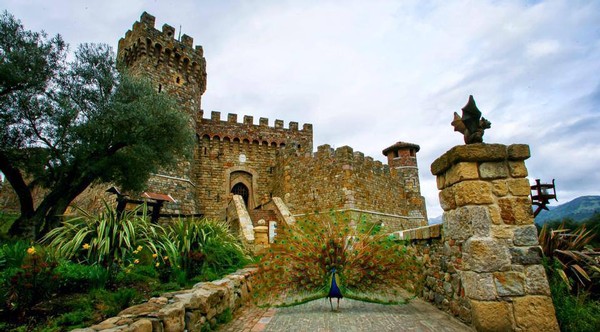 ---
♦ One bottle of 2022 Vermentino, a lively and crisp white wine with tropical aromas of sweetened honeydew melon, white peach, and citrus complemented by a bright acidity and subtle minerality on the finish.
♦ One bottle of 2021 Spumante Rose, aromas of sliced strawberries and a gently lifted, rose-like perfume. The palate has a crisp, pink-berry cut and a refreshing, tangy resolve. Drink now. - 90 Points, James Suckling
♦ One bottle of 2022 Rosato, an elegant dry rosé of Pinot Noir sourced from our Cresta d'Oro estate vineyard in Green Valley of Russian River Valley. Bright aromas of fresh berries mingle with hints of rose petal and a refreshing minerality from partial aging in a concrete egg.
♦ One bottle of 2022 La Fantasia, an Italian style frizzante (soft sparkling) wine which is naturally sweet and lower in alcohol, with bright aromas of summer strawberry, pomegranate, and wild berries leading to juicy flavors of black raspberry and plum, with a lively mouthfeel and refreshing finish.
♦ One bottle of 2018 Il Passito Reserve, rich, unctuous and complex. An elegant and nuanced honey sweet dessert wine, made in the fine sauterne style. A regal dessert wine made from overripe grapes which develop Botrytis cincerea, or "Noble Rot", shriveling the skins and enhancing sugar, acid and flavor intensity.
♦ One bottle of 2021 Gioia, an Italian style rosé with a beautiful rosy-red garnet color, bursting with bright wild berry and melon flavors. A perfect summer sipping wine.