A round and balanced full-bodied Chardonnay from vineyards in the southern end of Napa Valley with lush notes of baked apple, ripe pear, fall spices, and toasted almond.
---
See our recipes for some quick and easy pairing options:
♦ Chicken, Avocado and Fennel Salad
♦ Ahi Avocado Salad with Ponzu
♦ Seared Scallops and Sweet Corn Salad
♦ Mary's Shucked Brussels Sprouts with Shallots & Pine Nuts
---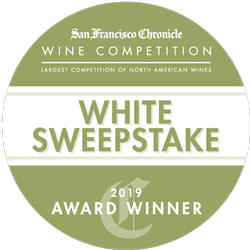 2017 Reserve Chardonnay is awarded #1 White Wine at the 2019 San Francisco Chronicle Wine Competition
"The White Sweepstakes is very difficult to attain for a winery because it is competing against over 2500 white wines from across North America. What is even more remarkable is that this marks the fourth time Castello di Amorosa has won the coveted Sweepstakes award."
- Bob Fraser, Executive Director, San Francisco Chronicle Wine Competition