Castello di Amorosa is proud to share with you this extra virgin cold pressed olive oil made exclusively from olives harvested at our own Morning Dew Ranch estate property in the Anderson Valley, Mendocino County. These mature olive trees grow on a small patch of sloped hillside adjacent to some of the Castello's most prized Pinot Noir vines. Under the watchful eyes and with the help of both our Winemaker and Vineyard Manager, the harvest was done by hand on a single foggy morning by the same dedicated team that cares for our grapevines on the secluded and serene ranch.
This distinctive olive oil is the result of painstaking care and effort, with the pressing taking place within hours of the harvest. The oil was allowed to naturally settle in small vessels in the Castello wine cave for several days, and then racked off of the sediment before bottling without further processing to preserve the natural character of the oil.
Best as a finishing oil; enjoy it drizzled on salads, pasta, salumi and cheese, or over grilled meat or fish. Delicious simply as a dip with salt and bread.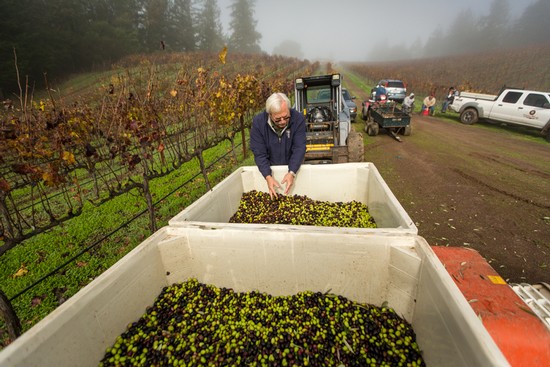 Director of Winemaking Brooks Painter inspects the olive harvest at Morning Dew Ranch