Climb aboard for a mysterious journey through the spooky chambers of Castello di Amorosa. Let the wines lead you through...Beware of ghosts, ghouls and more, they could be after your wine!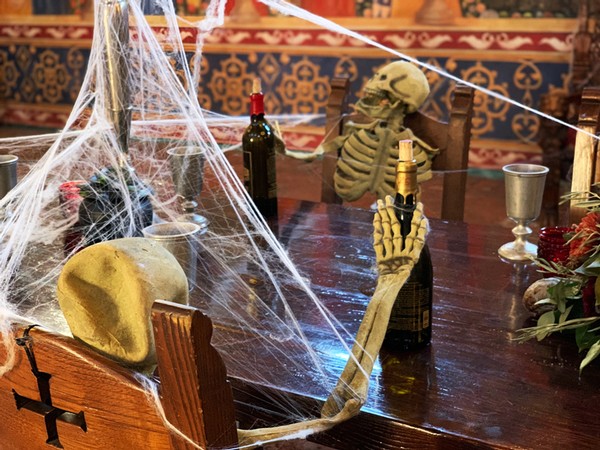 *$10 Shipping*
---
♦ One bottle of 2017 La Castellana, Super Tuscan Blend, our "Lady of the Castle" is a Super Tuscan blend of Cabernet Sauvignon, Merlot, and Sangiovese, with excellent long-term aging potential. Dark stone fruit, spices, red cherries, and floral notes are supported by silky, polished tannins. La Castellana is a harmonious blend that strikes a balance between power and elegance
♦ One bottle of 2019 Diamond Mountain District, Cabernet Sauvignon, a single vineyard Cabernet Sauvignon grown in the volcanic soils of the hillside vineyards surrounding the Castello in the Diamond Mountain District AVA. Meant for cellaring up to 10 years.
♦ One bottle of 2022 Rosato, an elegant dry rosé of Pinot Noir sourced from our Cresta d'Oro estate vineyard in Green Valley of Russian River Valley. Bright aromas of fresh berries mingle with hints of rose petal and a refreshing minerality from partial aging in a concrete egg.
♦ One bottle of 2022 La Fantasia, an Italian style frizzante (soft sparkling) wine which is naturally sweet and lower in alcohol, with bright aromas of summer strawberry, pomegranate, and wild berries leading to juicy flavors of black raspberry and plum, with a lively mouthfeel and refreshing finish.
♦ One bottle of 2018 Il Passito Reserve, rich, unctuous and complex. An elegant and nuanced honey sweet dessert wine, made in the fine sauterne style. A regal dessert wine made from overripe grapes which develop Botrytis cincerea, or "Noble Rot", shriveling the skins and enhancing sugar, acid and flavor intensity.
♦ One bottle of 2022 Late Harvest, Gewurztraminer, an Italian style rosé with a beautiful rosy-red garnet color, bursting with bright wild berry and melon flavors. A perfect summer sipping wine.
♦ One bottle of 2022 Pinot Grigio, North Coast, "Sourced from North Coast vineyards, the nose shows bright green apple tones that combine with shades of nectarine and orange blossom that all mingle tightly in the glass. The palate has good freshness with a soft mouthfeel. Layers of kiwi and honeydew melon combine with the bright sense of minerality. Enjoy this excellent, brisk new Pinot Grigio in the short term. Drink 2020-2023." - 90 Points, Owen Bargreen