Send heartwarming wishes with our favorite Rosé Wines & Castello Chocolates.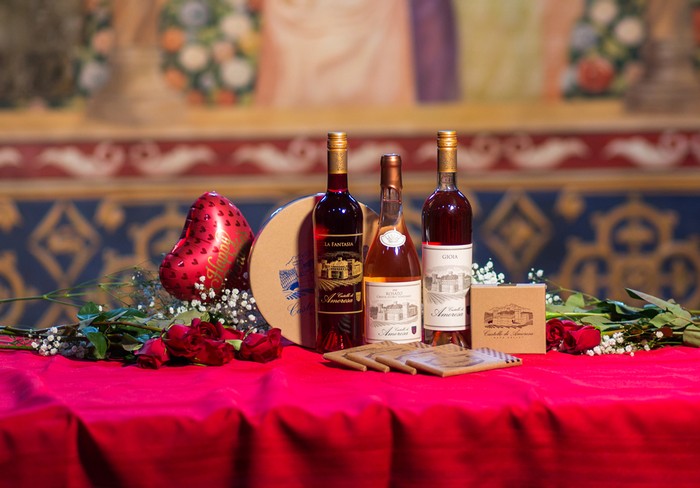 *$10 Shipping*
Cannot be combined with other discounts.
---
♥ One bottle of 2020 Gioia, Rosato di Sangiovese, an Italian style rosé with a beautiful rosy-red garnet color, bursting with bright wild berry and melon flavors. A perfect summer sipping wine.
♥ One bottle of 2021 Rosato, Cresta d'Oro Vineyard, an elegant dry rosé of Pinot Noir sourced from our Cresta d'Oro estate vineyard in Green Valley of Russian River Valley. Bright aromas of fresh berries mingle with hints of rose petal and a refreshing minerality from partial aging in a concrete egg.
♥ One bottle of 2022 La Fantasia, Frizzante-Style Rose, an Italian style frizzante (soft sparkling) wine which is naturally sweet and lower in alcohol, with bright aromas of summer strawberry, pomegranate, and wild berries leading to juicy flavors of black raspberry and plum, with a lively mouthfeel and refreshing finish.
♥ 4-Pack La Fantasia Dark Chocolate Raspberry Bars, indulge in your wildest chocolate fantasies with our La Fantasia Raspberry Dark Chocolate bar. Artisanally made by a local chocolatier, this dark chocolate bar contains a delicate raspberry ganache inside; the perfect accompaniment for our La Fantasia soft-sparkling rosé wine.
♥ King's Ransom Truffle Box, tempt your taste buds with the "King's Ransom" of chocolates, a jewel box containing 12 assorted pieces of our artisan chocolates. Your heart is in the right place when you purchase this for friends and family, but we wont hold it against you if you keep it!
♥ 6 Piece Chocolate Box, bring our wine & chocolate pairing experience home with our chocolate truffles from Le Belge Chocolatier made exclusively for the Castello! Featuring two creamy milk chocolate truffles perfect to pair with our Napa Valley Merlot, two luscious dark chocolate crown truffles crafted to pair with our Napa Valley Cabernet or Il Barone, and two enticing raspberry-filled heart chocolate truffles that pair beautifully with our La Fantasia. A favorite for any lover of wine and chocolate!