Our 7 Deadly Sins wine pack is an extension of our 13th Century inspired Castle. The 14th Century produced two key texts which grew the mythos of the 7 Deadly Sins and ignited the fears of the public. Explore your sins with these 7 sinful wines.
Our 13th Century Castle is no stranger to the idea of sin, as the popular Dante's Inferno (1320) and Parsons Tale (1387) were both written in the 1300's. Taddeo di Bartolo's "Hell" frescoe depecting the different sins was originally painted in 1392 in the Palazzo Pubblico located in Siena, Italy. The artwork includes various depictions of the gruesome torments to be suffered by those who commit the Seven Deadly Sins. This frescoe was re-done by our own Fabio Sanzogni, who took just under 1 year to finish the project (you can see the painting below). These ideas continue to live today, through remakes of these classic texts.
*$10 Shipping*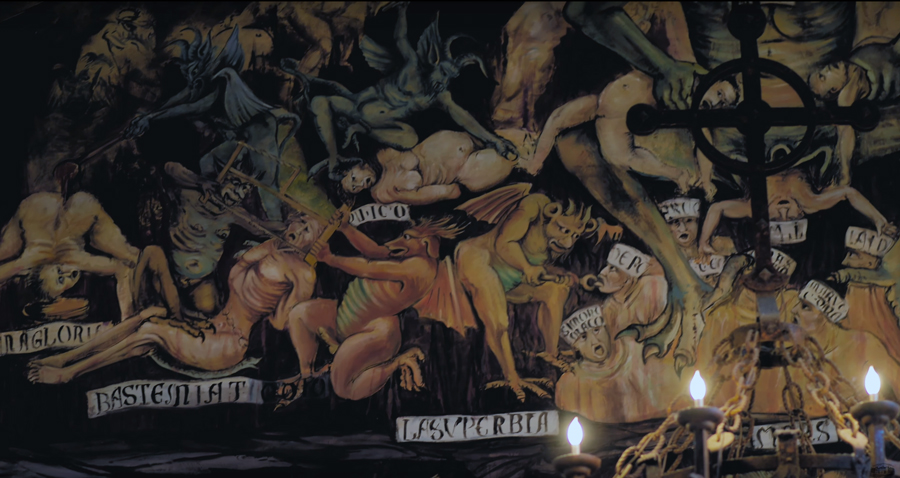 ---
♦ ENVY - One bottle of 2016 La Castellana, Super Tuscan Blend, our "Lady of the Castle" is a Super Tuscan blend of Cabernet Sauvignon, Merlot, and Sangiovese, with excellent long-term aging potential. Dark stone fruit, spices, red cherries, raspberry puree, and dark chocolate are supported by silky, polished tannins. Its easy to see how Envy could grow when the wine runs out.
♦ WRATH - One bottle of 2019 Zingaro, Old-Vine Zinfandel, Sonoma County, our 2019 Zingaro is an old vine Zinfandel wine from the cool climate Russian River Valley. The wine displays classic notes of ripe black fruits, sweet tobacco, and white pepper. Made in the style of an Italian Primitivo. The Wrath comes from the old vine Zinfandel vineyard that was planted in the 1920's by Pietro and Centurio Boschetti, yielding fruit that is intense in character yet balanced in structure and acidity. Feel the Wrath of the old vines as the stressed roots created a intense and complex Zinfandel.
♦ GLUTTONY - One large format bottle of 2021 Chardonnay Reserve, Napa Valley, Magum, a round and balanced full-bodied Chardonnay from vineyards in the southern end of Napa Valley with lush notes of baked apple, ripe pear, fall spices, and toasted almond. Large format bottles allow for high quality wines to age slower and longer. As defined in the 14th century, drinking too much alcohol and desiring too much fine food are points of Gluttony, which could result if you don't share this Magnum with friends.
♦ LUST - One bottle of 2022 La Fantasia, an Italian style frizzante (soft sparkling) wine which is naturally sweet and lower in alcohol, with bright aromas of summer strawberry, pomegranate, and wild berries leading to juicy flavors of black raspberry and plum, with a lively mouthfeel and refreshing finish. Be aware, Fantasia can easily lead to Lust in the right situations.
♦ PRIDE - One bottle of 2019 Sangiovese, Napa Valley, the Pride of Italy has aromas of dried strawberry, red cherry, rhubarb, and sweet exotic spices framed by supple, toasty oak.
♦ SLOTH - One bottle of 2020 Late Harvest, Gewurztraminer, a succulent and deliciously sweet white wine loaded with aroma and flavor, made in a "Noble Rot" dessert, or very sweet, style. Deep straw in color, the Late Harvest Gewürztraminer displays hints of peach, apricot and toffee with a undertone of honey. Sloth has come to mean "laziness" today, it applies to these overripe grapes which develop Botrytis cincerea, or "Noble Rot", shriveling the skins and enhancing sugar, acid and flavor intensity. The grapes themselves are harvested way after the other grapes have been removed, a very Sloth like quality.
♦ GREED - One bottle of 2022 Pinot Grigio, North Coast, sourced from North Coast vineyards, the nose shows bright green apple tones that combine with shades of nectarine and orange blossom that all mingle tightly in the glass.