Explore our Valentine's pack of our finest sweet wines and chocolates. Our fun and festive Valentine's collection everyone wants to gift and receive.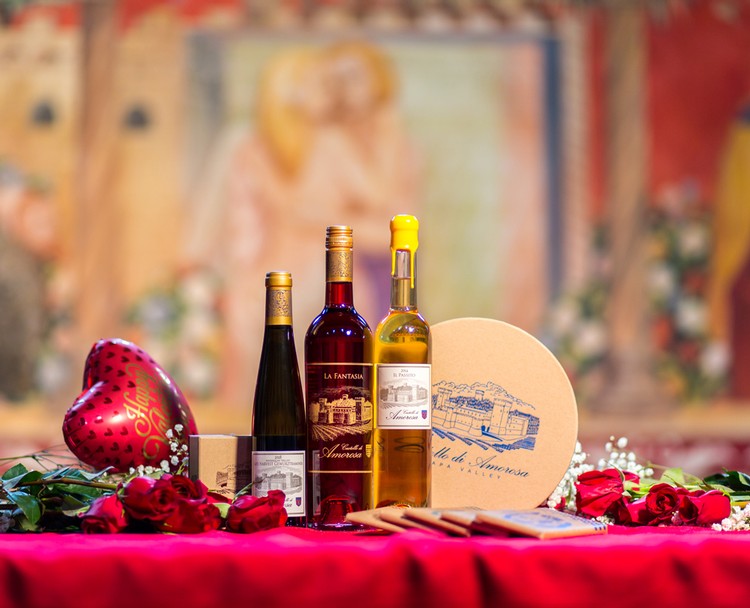 *$10 Shipping*
Cannot be combined with other discounts.
---
♦ One bottle of 2018 Il Passito, Napa Valley, a wine for kings and queens; rich, unctuous and complex. An elegant and nuanced honey sweet dessert wine, made in the fine sauterne style. A regal dessert wine made from overripe grapes which develop Botrytis cincerea, or "Noble Rot", shriveling the skins and enhancing sugar, acid and flavor intensity. The resulting harvest in late autumn is vastly diminished in yield, then barrel-fermented and aged for 2 years, becoming more concentration and flavorful. The rare late harvest varietal grown in the Yountville AVA of Napa Valley.
♦ One bottle of 2022 Late Harvest Gewurztraminer, a succulent and deliciously spicy white wine loaded with aroma and flavor, made in a "Noble Rot" dessert, or very sweet, style. Awarded a gold medal in the 2020 San Francisco Chronicle Competition. This Castello Estate vineyard is located just south of the town of Boonville in Anderson Valley, a coastal valley region famed for Burgundian and Alsatian varieties.
♦ One bottle of 2022 La Fantasia, Frizzante-Style Rose, an Italian style frizzante (soft sparkling) wine which is naturally sweet and lower in alcohol, with bright aromas of summer strawberry, pomegranate, and wild berries leading to juicy flavors of black raspberry and plum, with a lively mouthfeel and refreshing finish.
♦ 5-Pack Chocolate Bars, includes one bar each of our Dark Chocolate Sea Salt, Milk Chocolate, La Fantasia Raspberry Chocolate, Hazelnut Almond Milk, and Key Lime Sea Salt White Chocolate. Produced by local Napa Valley chocolatier, Le Belge, exclusively for the Castello.
♦ King's Ransom Truffle Box, tempt your taste buds with the "King's Ransom" of chocolates, a jewel box containing 12 assorted pieces of our artisan chocolates. Your heart is in the right place when you purchase this for friends and family, but we wont hold it against you if you keep it!
♦ 6 Piece Chocolate Box, bring our wine & chocolate pairing experience home with our chocolate truffles from Le Belge Chocolatier made exclusively for the Castello! Featuring two creamy milk chocolate truffles perfect to pair with our Napa Valley Merlot, two luscious dark chocolate crown truffles crafted to pair with our Napa Valley Cabernet or Il Barone, and two enticing raspberry-filled heart chocolate truffles that pair beautifully with our La Fantasia. A favorite for any lover of wine and chocolate!