April 14, 2014 | Tastings | Alison Cochrane Hernandez
Bringing Wine Country Home: How to Throw a Wine Tasting Party
A great perk of living/ working in wine country is the opportunity to be exposed to a wide variety of wines and winemaking styles. One of the obvious ways to expand one's palate in this area is going out and exploring the myriad of tasting rooms and wineries available (and with over 375 in Sonoma County and 400+ in Napa Valley, there are many important decisions to make!). Basically, we in the wine world lead a rough life of roaming around beautiful rolling hillsides and valleys covered in leafy green and gold beauty searching for whatever our taste buds desire.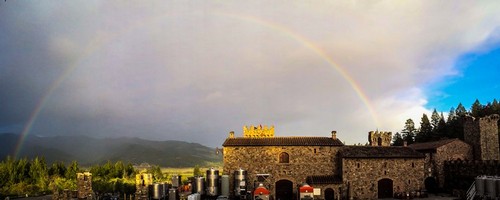 Just another day at the office...
Like I said, life's hard sometimes.
But what about experiencing wine after hours? Or what if you don't have the ability to drive 20 mins to an hour to get to the nearest winery? Well there are plenty of opportunities to explore new vintages and varieties from the comfort of your own home. Why not try hosting a wine tasting party?
A group of us at the Castello get together on a regular basis for wine tastings, and it always ends up to be an enlightening, delicious, and fun way to try new wines and hear impressions from everyone. We've had evenings dedicated to a specific varietal (such as Pinot Noir), winemaking styles (Old World vs New) and wine regions around the globe. Our most recent tasting focused on the wines of Spain. We sampled Riojas, Priorats, and Tempranillos with Spanish cheeses and Tortilla de Patata, a classic Spanish egg and potato appetizer made by our very own resident Spaniard, Maria!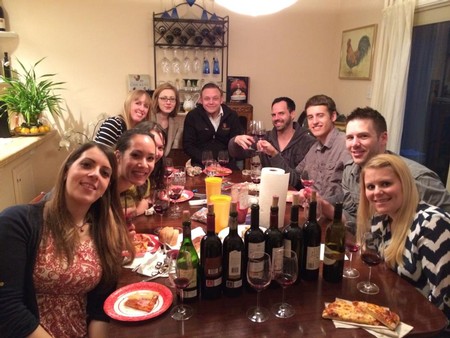 Spanish wine tasting night with the Castello crew (and friends!)
Throwing a wine tasting party can be fun and easy, and is a great way to connect with friends over a few bottles of delicious vino! Here are a few tips for planning your own wine tasting night:
What you need:
♦ Wines (obviously) – Make sure to have enough wines for your party to taste! It's generally a good idea to keep these get-togethers between 6-12 people so everyone has a chance to sit around the table and share their thoughts and stories about the wines being poured, and it's a good plan to allot about a half bottle's worth of wine per person at the tasting, though having an extra bottle or two on hand never hurts "just in case"! Keep the pours around 2 ounces for each wine, especially if you have a wider selection to taste through.
♦ Glasses – Always make sure to have enough glasses for all guests present. It's usually nice to have at least 2 glasses per guest, especially if you want to evaluate your wines side-by-side. It's fine to reuse the glass for multiple wines, as long as you're not going from a red to a white or sweet (you don't want to make your own "rose")
♦ Dump Bucket – Have a vase or pitcher off to the side for people to dump any wine they don't want to finish (remember, the more wines you consume, the less you'll be able to taste!)
♦ Water – Place a water pitcher on the table with glasses for guests to sip from between tastings. Sparkling water is even more helpful in warding off the dreaded "palate fatigue"
♦ Snacks – Small bites make a delicious centerpiece at the table. Try to find foods that pair with the wines you'll be trying; cheeses and charcuteries with a fresh baguette are always a good idea, and you can even ask your guests to bring an appetizer they think would complement the wines.
♦ Wine charms/ glass markers – These are helpful to keep track of which wine is in which glass. If you're on the third round of tastings and trying a California Cabernet next to a French Bordeaux, it definitely doesn't hurt to have a little reminder to keep you focused on what's in front of you. If you don't have wine charms, dry erase markers or even stickers work well (as long as they peel off easily)
♦ Notepads/ pens – These are especially useful for guests who want to remember which wines were tasted and which were their favorites. Great to hang on to for the next time you're trying to remember a delicious wine you had to pair with dinner!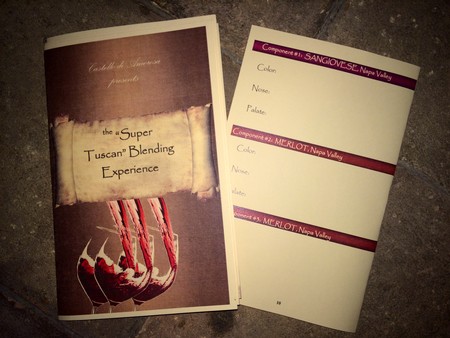 You can even segment notes to help guide your guests through their tasting with categories like Color, Nose, Taste, and Finish
Things to avoid:
♦ Perfume/ cologne – Remind your guests to refrain from wearing any strong scents, as this can detract from the overall tasting experience (as nice as your Chanel No 5 may smell, nobody wants to be drinking it)
♦ Scented candles/ flowers – Same reasons as above (nobody wants to be picking up "essence of Pumpkin Spice" in their Pinot Bianco)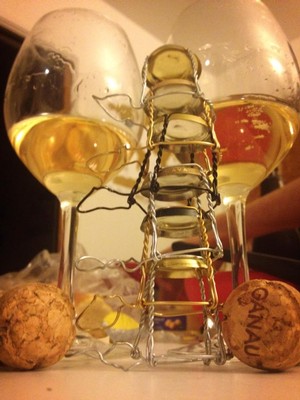 Who needs candles when you can make your own centerpiece from corks and Champagne cages?
There are plenty of great themes you can have with a tasting party. Here are a few to start you off with:
♦ Varietal tasting – Pick a grape and see how the results differ based on where it's produced and who is making it. Examples: Try Pinot Noirs from Burgundy, Sonoma, Carneros, and Oregon to see how terroir affects the outcome
♦ Old World vs New World – Choose wines from a specific "Old World" region (think Europe) and compare them with their "New World" counterparts. Examples: Italian varietals (Sangiovese, Barbera, Pinot Grigio) vs. their California counterparts
♦ Vintages – Pick a specific wine from your favorite winery and see how that wine changes with each year. Examples: A vertical tasting of Castello di Amorosa Cabernet Sauvignon from 2008 – 2010
♦ Blind Tasting – Break out the brown paper bags and test your senses! See if you can spot the difference between a Merlot and Cabernet Sauvignon, or a Riesling vs Moscato. The sky's the limit!
And finally, the most important part of a wine tasting party: Have fun!! Whichever wines you choose, you'll be sipping, swirling, and savoring a great evening with good friends!
Salute!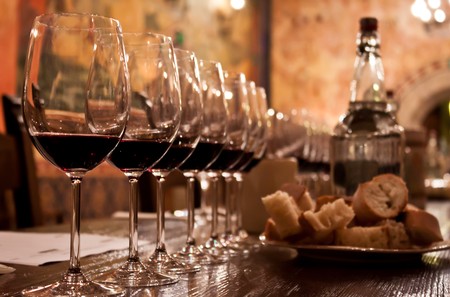 So many glasses, so little time…