June 26, 2015 |
Peter Velleno
Winemakers weigh countless factors and make innumerable decisions every day for months on end to create a single vintage of a single wine, and, as you know, at Castello di Amorosa we make much more than a single wine. We will continue to monitor each wine, and make slight adjustments, up until the day it is bottled. Once the wine is in the bottle, that's it; that blend had better be right because there is no going back. Bottling can be a bit stressful because of that finality. Yet, it is also a relief. So many things can go wrong in winemaking (not to mention the vineyard!). The entire winemaking and cellar team have to look out for each and every barrel at the Castello. Even one bad barrel, left unchecked, could wreck an otherwise outstanding blend. Oxidation, bacterial spoilage, leaking barrels… when that cork goes in all of those worries go away.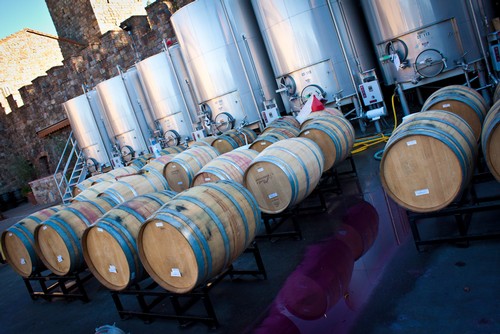 Cleaning French oak barrels on the Crush Pad. The final blends are created in the stainless steel tanks behind before being sent to the bottling line.
Bottling has to be perfect. It is just as true for delicate white wine like Pinot Grigio that will be consumed young as it is for our reserve Il Barone Cabernet Sauvignon that we hope will stand up to decades of cellaring. This is the main reason Dario decided to purchase the Castello bottling line; many wineries as small as us do not own their own lines. They either bring in a mobile bottling line (truck and trailer) or ship the wine offsite for bottling. Having your own equipment is very expensive to start with, and then you need to have staff that knows the intricacies of your machines and also staff to perform the non-stop Quality Control checks. The benefit, however, is so great that Dario did not hesitate when making this investment.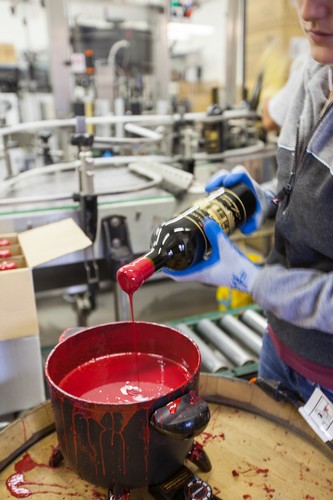 We hand wax each bottle of our Il Barone and La Castellana Reserve wines to give it a traditional look and create a tamper-proof seal.
Here at the Castello we have complete control over our wines. Though most of our bottling happens in the summer before the Harvest, we bottle something nearly every month of the year, in small batches, ensuring that each individual wine is bottled when it is ready. Not sooner, when a wine might be underdeveloped and not fully expressive, and not later, when a wine might become "tired" before it even gets in a bottle. This type of flexibility in scheduling is simply not possible without bottling your wine on-site with your own bottling line and staff.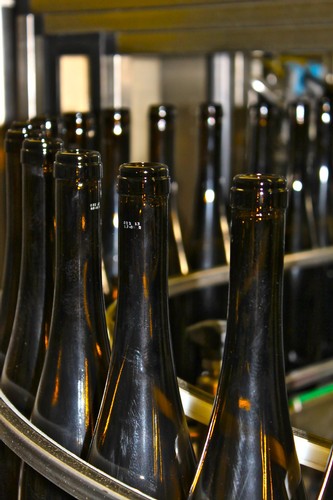 Empty bottles waiting their turn to be filled with the newest vintage
The Castello di Amorosa bottling line has a special type of bottle filler called a counter-pressure filler. This type of filler is commonly used at modern breweries to fill beer bottles, but seldom seen at wineries. The reason for this is that beer is even more susceptible to spoilage than wine is, and it is extremely sensitive to oxygen exposure. The counter-pressure style filler is unmatched in its ability to prevent oxygen from getting in to the product while also maintaining a sterile bottling environment. It also came with a steep price tag (much more than a traditional filler), but if you know Dario, you know that he is willing make just about any investment to support wine quality. This type of bottling line also offers another benefit: the Castello di Amorosa famous dessert wine La Fantasia. The unusually high level of "spritz" in that wine makes it impossible to bottle with a traditional wine bottle filler. The Castle just would not be the same without La Fantasia!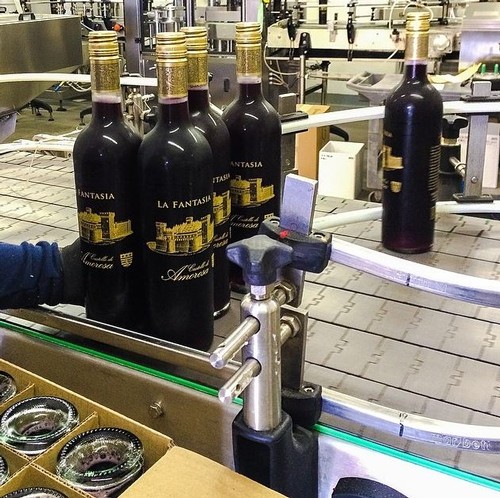 La Fantasia fresh off the bottling line!
While bottling there are a number of Quality Control checks that the Castello staff monitors: temperature of the wine, dissolved oxygen, fill level, vacuum of the corker, label placement… You really do have to pay close attention, as you only get once chance to get it right. After bottling we perform our own in-house microbiological plating of the wines to make sure there was no contamination. Once we see those results, we can finally stop holding our breath and appreciate all of the work that went in to each and every bottle of wine. If bottling goes smoothly and stays on schedule, we might even get a little time off before the next Harvest starts!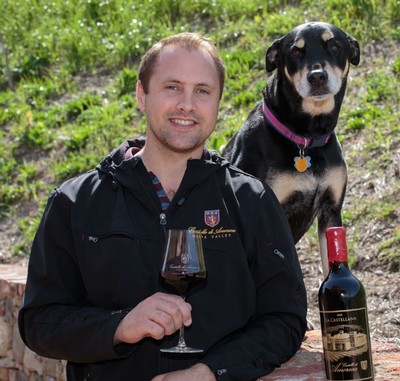 Peter Velleno
Winemaker, Castello di Amorosa