It's about to get a lot greener here in wine country...
Not to say it isn't green already. After years of record drought, the rains have finally arrived, and we have been incredibly fortunate to have a very wet winter thanks to a record El Niño. The much needed moisture has created the perfect conditions for cover crops to blossom beneath the sleeping vines, and the valley has been awash in vibrant greens and the bright yellow of mustard flowers, which are providing beautiful views as well as adding necessary nutrients back into the soil in preparation for the 2016 growing season.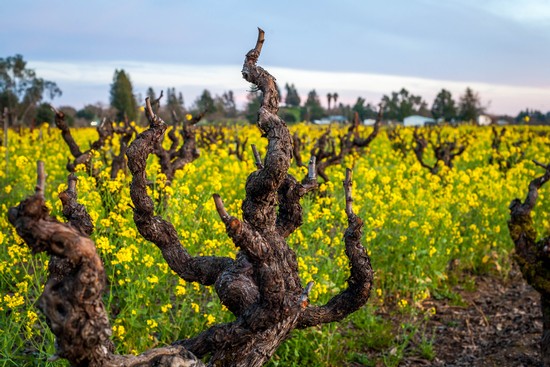 Mustard flowers blooming between old vine Zinfandel
And speaking of growing season, it looks like the 2016 growing season has officially begun! With the arrival of bud break in vineyards all across Napa Valley, freshly pruned vines are beginning to show the first signs of foliage with tiny buds peeking out from the sleepy canes. Bud break typically begins in late March/ early April for this region, which means we're experiencing a slightly earlier than usual start to the season this year. This growth may be slowed a bit by the current rains we're experiencing, but as soon as the weather clears and warms up a bit more we should be seeing a lot more action in the vineyards.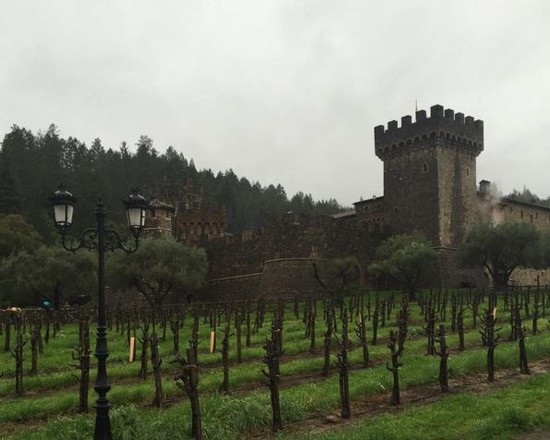 Rainy days at the Castello
Bud break is a very delicate time of year, as the new vines are very vulnerable to inclement weather such as frost. Many vineyards have special turbines designed to keep air circulating around the vines in the case of a sudden cold snap (Castello sommelier Mary Davidek has a great blog post on the subject). With the relatively mild temperatures we've experienced this winter (again thanks to El Niño) frost should not be too big a concern, and as long as the storm systems moving through aren't too strong, rain is still welcome!
Baby Cabernet Sauvignon leaves heralded the start of the 2015 season
Here at the Castello's estate vineyards, we've just begun to see bud break on our Sangiovese vines. Just like leaf patterns and grape clusters, new buds can look quite different between grape varieties. For example, Sangiovese buds tend to be bright spring green, while brand new Cabernet Sauvignon leaves have an elegant, almost rusty tinge around their edges. We're looking forward to greeting the new buds as they pop up around the Castello, and welcoming the start of the 2016 growing season!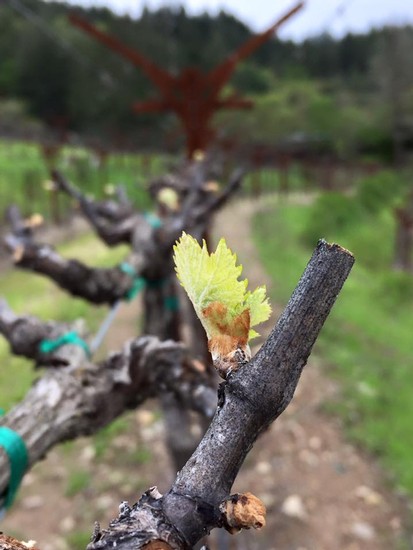 Sangiovese bud break in front of the Castello