Napa Valley is world famous for its premium-quality wines, placing it alongside other winegrowing regions such as Bordeaux and Burgundy in France, Chianti in Italy, Rioja in Spain, and Barossa Valley in Australia. While these regions may all grow similar varietals of grapes like Cabernet Sauvignon or Chardonnay, the overall style and even legal requirements of winemaking can produce very different results in the bottle. These differences are often referred to as "Old World" vs "New World" styles of making wine. But what do these differences really mean?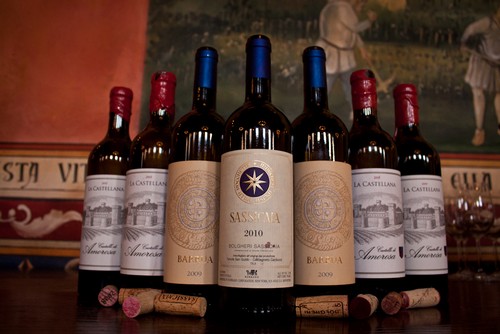 The Castello's La Castellana Super Tuscan alongside the Super Tuscans of Barrua and Sassicaia from Italy
"Old World"
The "Old World" of wine refers to the original winegrowing regions, including Italy, France, Spain, and other nations whose viticultural practices date back hundreds of years. Stylistically, "old world" wines are typically made using traditional methods and techniques, which are often controlled by strict laws that determine what goes in to each wine in order to earn the name on its bottle. For instance, Italian laws in the Chianti region require that every bottle of wine labeled "Chianti" contain at least 80% of the Sangiovese grape.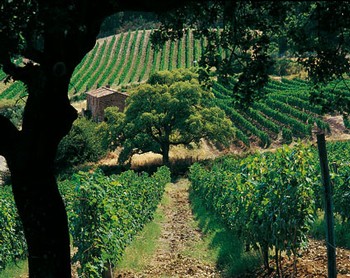 The vineyards of Tenuto San Guido in Bulgheri, Tuscany
You might also notice more "Old World" wines tend to consist of blends, or list only the name of the region in which it was produced rather than a specific varietal. For instance, a "white Burgundy" from France would most likely consist primarily of Chardonnay grapes, or a red "Bordeaux blend" would contain at least two of the five varietals traditionally grown there (Cabernet Sauvignon, Merlot, Cabernet Franc, Petit Verdot, and Malbec). Blending varietals allows winemakers to produce a balanced, often softer style wine, and tends to focus on the "terroir," or region the grapes were grown, rather than particular types of grapes. This tends to lead to these wines displaying more earthy or mineral characteristics in the glass. "Old World" wines also tend to be lower in alcohol, which allows them to be much easier to pair with food.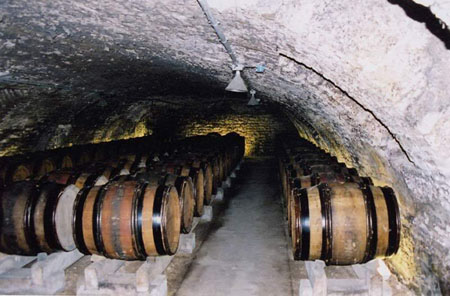 Patriarch Cellars, France
"New World"
Since "Old World" typically means "Europe," think of the "New World" of wine as basically everywhere else. "New World" regions such as California, Australia, and Argentina have adopted the techniques and varietals of the "Old World" and expanded upon them with new winemaking technologies, often without the strict legal requirements in place in Europe. Wines produced in this style are often described as more "fruit-forward" and oakey, and tend to have a higher alcohol content than Old World wines. Think of your traditional "Big Napa Cab" found so often out here in the Valley, with its rich fruit and bold tannins that make you instantly crave the largest ribeye steak you can find.

The Castello overlooks the northern end of Napa Valley from the foothills of the Diamond Mountain District
Castello di Amorosa: where "Old" meets "New"
Here at the Castello, we focus on "Italian-style" wines, meaning we like to use Italian varietals such as Moscato, Pinot Bianco, Pinot Grigio, Sangiovese, and Barbera. However, because our grapes are grown in Napa Valley and other regions of California, they do have a distinctly "New World" flavor profile, especially for Cabernet Sauvignon, Merlot, Zinfandel and Chardonnay where the local "Terroir" is evident in the glass.
We try to take an "Old World" approach to our winemaking, including traditional winemaking methods such as hand-picking grapes, using gentler press and fermentation techniques such as bladder presses and the "punch down" method for maceration, and aging many of our wines in French Oak barrels in our caves.
​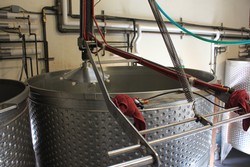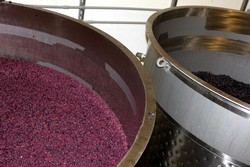 Open top fermentation tanks, to allow the "punch down" of the grape skins & seeds during maceration
Our blends like Il Brigante, and La Castellana "Super Tuscan" have a balanced approach between the varietals, creating a softer, more velvety wine. Keeping our alcohol levels more moderate for our red wines helps to create a more food-friendly style that won't overwhelm your palate at the lunch or dinner table. We hope to bring a bit of the Old World to the New here in world-famous Napa Valley, and we raise a glass to all of the wonderful wines made here and all over the world that bring new inspiration with every vintage!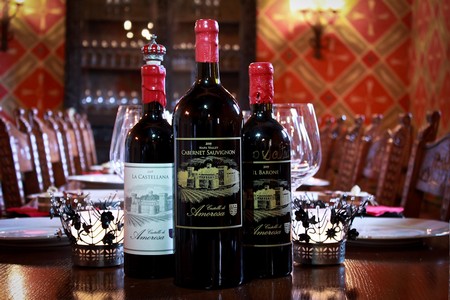 Cheers to the best of both worlds!