It has often been said that if Cabernet Sauvignon is king here in Napa Valley, then Chardonnay is queen. Chardonnay has reigned supreme among white wine grapes in California since the Judgment of Paris in 1976, when Chateau Montelena's 1973 Chardonnay trumped the French competition in a blind tasting and helped to put Napa Valley on the map of world-renowned winegrowing regions. Today, there are over 100,000 acres of Chardonnay vineyards planted throughout California, and the varietal remains one of the top white wines consumed by Americans each year.
One of the reasons for Chardonnay's popularity is the wide variety of styles it can be crafted in, based on where the grapes came from and how the wine was aged. While the majority of Chardonnays are aged in oak barrels, unoaked Chardonnays are rapidly increasing in popularity due to their brighter, fruitier notes, and both aging styles offer a wide range of complexity in the finished wines.
Chardonnay at the Castello

Here at the Castello, we produce two Chardonnays every year from two select cool climate vineyards in California. Our Napa Valley Chardonnay fruit comes from own estate vineyard in the Los Carneros AVA (American Viticultural Area) in the southern end of the Napa Valley, which is meticulously tended to by our Vineyard Manager, David Bejar, who has worked with Dario Sattui and our winemaking team for the past 17 years. Our Bien Nacido Vineyard Chardonnay comes from the iconic family owned vineyard in the Santa Maria Valley in Santa Barbara County, along the Central California Coast. In using these two cool climate vineyards to produce our Chardonnays, we hope to showcase the unique terroir of each region while utilizing both traditional and innovative winemaking techniques.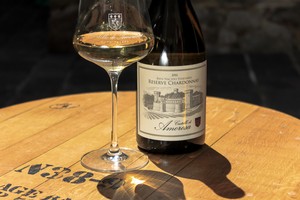 Our Bien Nacido Vineyard Reserve Chardonnay
All of our Chardonnay is harvested at night in order for the fruit to arrive at the Castello cold, which preserves the its delicate aromatics and natural acidity. Once the fruit gets to the winery, the whole grape clusters are placed into our two pneumatic, or "bladder" presses, which gently presses the juice from the skins and seeds. The juice is then pumped into Burgundian French oak barrels, where it ages for 8-10 months. We use 50% new and 50% second use French oak barrels on our oak-aged Chardonnays, which provides a balance between showcasing the terroir of the vineyard, acidity and fruit characteristics of the varietal, and the subtle notes of toast and spices that come from each individual barrel.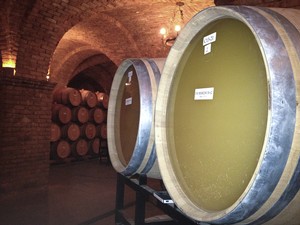 Two of our clear-headed oak barrels, which show the wine aging on the lees
After the wine has undergone primary fermentation, which converts the sugars in the juice into alcohol, our winemaking team then selects a specific number of barrels to undergo malolactic, or secondary fermentation. Here, the malic acid in the juice is converted into lactic acid, which gives Chardonnay its signature creamy mouthfeel (think "lactose" like milk). Roughly 40-60% of our Chardonnay barrels undergo malolactic fermentation, depending on the characteristics of the vintage and the acidity levels of each blend.
La Rocca Chardonnay – A new twist on a classic wine
If you have visited the Castello on a guided tour, you may have noticed our concrete fermentation eggs in the Grand Barrel Room, our 12,000 sq ft cross vaulted room three levels underground. We have been using these concrete eggs for the past several years to craft select single vineyard white wines like our Ferrington Vineyard Dry Gewurztraminer and Tyla's Point Pinot Bianco, and beginning with the 2013 vintage we are also fermenting and aging a select amount of our Bien Nacido Vineyard Chardonnay in one of these eggs. We have named this unique, limited-release wine "La Rocca," which means "The Fortress" in Italian. The egg shape allows for a natural suspension of the lees (sediment) compared to aging in traditional stainless steel tanks, without imparting any flavors or aromas found in oak barrel aging, and the higher acidity and tropical fruit characteristics of the Bien Nacido Vineyard Chardonnay made this fruit a perfect choice for aging in these unique vessels.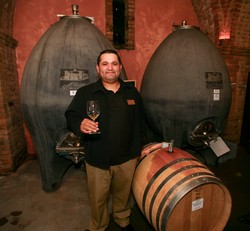 Cellar Master JoseMaria Delgado sampling our Napa Valley and La Rocca Chardonnays at The Grand Barrel Party
We are excited to make two Chardonnays from this historic vineyard in both French oak and concrete, as these two differing styles help to show the versatility of the varietal as well as the vineyard. Our La Rocca Chardonnay from Bien Nacido Vineyard is released each year to several of our shipping clubs, and we look forward to showing off the versatility of this beautiful Burgundian grape with our trio of California Chardonnays with each vintage!