August 4, 2015 | Food & Wine | Mary Davidek
Salmon with………
It is well known the health benefits of salmon are seemingly endless. From cardiovascular health to muscle and tissue regeneration, to eye health-- regularly including this meaty fish in our diet even bolsters our metabolism! Additionally, salmon is an excellent source of beneficial fatty acids like omega-3 as well as a good source of vitamins A and D.
Salmon is also exceptionally wine friendly; the chameleon of the sea when looking for the perfect pairing. Salmon works with whites, reds and rosé, so if salmon is on the menu let the cooking method and spices guide your pairings.
In the words of Billy Joel "a bottle of red and a bottle of white, it all depends on your appetite".
Well, your appetite and perhaps what was in the latest Castello Wine Club shipment!
Chardonnay with Lemon Pepper and Garlic Baked Salmon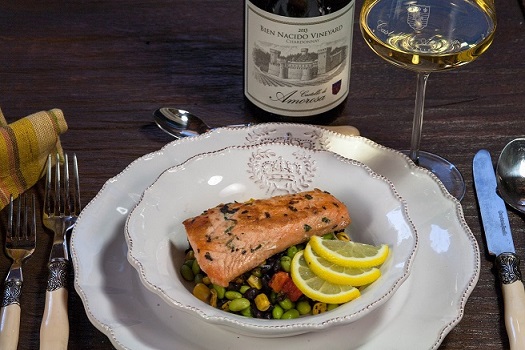 With brilliant stone fruit, a hint of creamy citrus (think merengue) and just a breath of fig and hazelnut the 2013 Bien Nacido Chardonnay is the perfect canvas for this salmon preparation. Keep the sides fresh and vibrant like this hash of sweet corn and edamame. Liberally season the fish with garlic salt and lemon pepper. Place salmon, skin side down, on a non-stick baking sheet or in a non-stick pan. Bake until salmon is cooked through, about 12 to 15 minutes at 450 degree oven.
Sangiovese with Cajun Spiced Salmon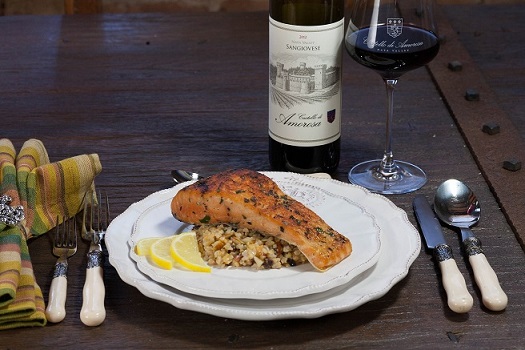 Salmon is a hearty meaty fish with high fat content (the good fats!) so it can play with high acid, high clarity varietals like Sangiovese. For the seasoning I used a Cajun spice rub but added additional garlic and black pepper. I wanted the spice to bring zing and pizzazz with our latest Sangiovese release. The 2012 Sangiovese shows vibrant notes of ripe red raspberry, rhubarb and trademark anise. It is a mid-palate explosion of delicious and perfect with the rich spiced salmon
Pinot Noir with Ginger, Soy, and Balsamic Grilled Salmon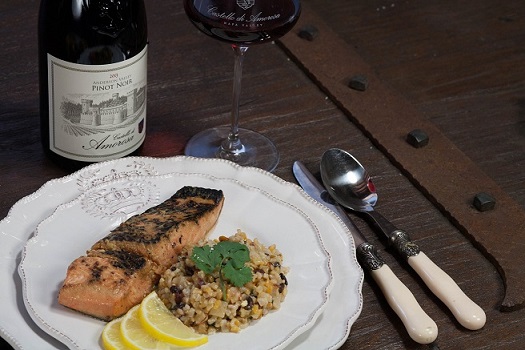 A simple soy sauce, brown sugar and ginger marinade, with a dash of lemon and garlic, are the perfect salty-sweet complement to rich salmon fillets. Evocative Asian notes of ginger and soy are classic flavors for Pinot Noir pairing and the smoky grill perfectly accentuates this earthy wine. Our Anderson Valley Pinot Noir has just a touch of exotic spice but the palate showstopper is the obvious grace and elegance iconic to cool climate Pinot Noir.