December 24, 2013 |
Mary Davidek
I am a cooking and food magazine junkie. It all started with my Mom and a ritual that took place during our visit to the 'beauty parlor' (not a salon, but the beauty parlor!) for Mom's weekly scheduled shampoo and set. Here she regularly scoured through the latest edition of 'Family Circle', 'Good Housekeeping' and 'Sunset' magazines and recited recipes in a much too loud voice so I (and everyone in a 20 yard radius) could hear her over the constant noise generated by the mission control-like dryer chair. I would nod with dutiful approval dotted with an intermittent 'yep, sounds good' which were typically enough to satiate her. To add to her enjoyment and proof I really was listening, I even managed to insert a question or two; "what is braising?" or "why does it have to be sifted?" This launched her into an explanation that today seems worthy of 'Food Network'. However, one particular phrase seemed to arise on nearly every recipe and always required definition and clarification — "season to taste".
Mom explained the following:
Add salt until it you taste it. If it seems bland- it probably is. Increase by a ¼ tsp. and taste after each addition.
Add seasoning and spices (pepper, fresh herbs, dried seasoning) until the taste is in balance with the rest of the flavors. Make sure spices and seasonings cook along with the dish. However, additional fresh herbs added at the end can make a big difference.
Add acid (Tabasco, lemon juice, or vinegar) if it tastes flat or one-dimensional. Hot sauce works in creamy dishes because the acid from the vinegar and the heat from the peppers boost the flavors. Keep a light hand; if the dish isn't supposed to be "spicy hot" add just a splash of hot sauce then use vinegar or lemon juice.
Add sugar; the tried and true fix if you overdo it. Sugar balances both salty and bitter flavors. Adding a touch of sugar makes too salty taste less salty and too bitter or sour taste less bitter without actually decreasing the amount of salt or acid in the recipe.
The thing is, Mom's beauty shop narrations were not idle or forgotten ideas of an affordable casserole or a quick and easy dessert, they were her inspiration for future meals and goodies that made it to the family table and eventually led to my life-long pursuit of 'tasting'.
Here is one of my cold-weather favorites. It is hearty, spicy, savory and comforting; ideal to keep in the fridge and warm up after a day of visiting with friends and family or after hours of wrapping followed by seconds of unwrapping. Remember always adjust the spices as you progress and as in all recipes—season to taste!

I wish you perfectly seasoned greetings--
Happy Holidays!
Mary Davidek
Deconstructed Albondigas
4 Cups Beef Broth
4 Cups Chicken Broth
2 large cans crushed tomatoes (28 oz.)
2 large cans diced tomatoes
1 lb. ground beef
1 lb. spicy sausage
2 heads of cabbage, cored and diced
1 small bag frozen white corn
4-6 carrots thinly sliced
4-6 stalks diced celery
4 large cloves minced garlic
1 bunch of chopped cilantro (set some aside for garnish)
1 large diced brown onion
Season to taste =)
Brown ground meat and/or sausage. Add to a large pot with all other ingredients. Cook over medium low heat until vegetables are to desired softness. To accelerate the cooking process, give the veggies a quick sauté before adding to the pot. Stir and taste often and, as always, add seasoning as needed.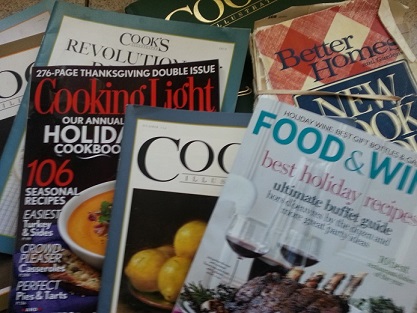 My current library. The Better Homes and Garden cook book was a wedding gift from who else; my Mom. Held together by a rubber band, for 24 years I have referred to this book filled with hand written notes and recipes.
'Deconstructed' is contemporary food lingo but Mom would have just said this was quicker and easier than making and cooking meatballs! This is tasty and easy to reheat during the upcoming week of merriment or freeze leftovers in containers for up to 6 months.
Dry, crisp and almost exotic; Castello di Amorosa's Anderson Valley Gewurztraminer balances the spice and works with the richness of the ground meat and sausage. Perfect for a first course or as a hearty meal served with fresh bread or warm tortillas.