February 7, 2010 | About the wine | Jim Sullivan
Robert Parker loves our wines
Robert Parker, a leading U.S. wine critic with international influence can literally make or break wineries with his judgments. He was in the Napa Valley at the invitation of the Napa Valley Vintners Association and posted the following in his newsletter, The Wine Advocate.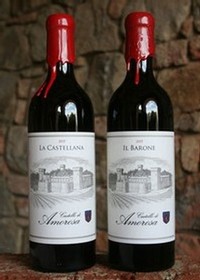 2007 Reserve Il Barone 100% Cabernet Sauvignon
Robert Parker score: 94
"The brilliant 2007 Cabernet Sauvignon Il Barone boasts an opaque purple color as well as a beautiful sweet nose of blackberries, black currants, camphor, subtle toasty oak, and espresso roast. Rich and full-bodied with sweet tannin, a hint of smoked meats, deep fruit, and an impeccable balance, purity and texture, this stunning wine should drink nicely for 15-20 years."
2007 La Castellana Super Tuscan
Robert Parker score: 92
"The 2007 La Castellana is a proprietary blend of 66% Cabernet Sauvignon, 18% Merlot, and 6% Sangiovese. An outstanding, hedonistic, complex red, it reveals notes of wild strawberries, new saddle leather, black currants, cherries, cedar, and smoked herbs. Full-bodied, lush, and seductive, this beautifully mouthfilling, supple wine should be enjoyed over the next 7-10 years."
Castello di Amorosa wines are sold only at the winery, directly to the consumer. The 2007 vintages Il Barone and La Castellena Super Tuscan will be released in 2012.