April 16, 2013 | Tastings | Julie Ann Kodmur
SipSwirlSavor reviews our
Our thanks to SipSwirlSavor for reviewing our Sangiovese:
A sensible Sangiovese from the Napa Valley
Italian grape varieties are fairly uncommon in the Napa Valley. That being said, the few Napa Sangioveses I've had in the past have tasted less like their Italian counterpart and more like a Napa Cabernet. Which made me wonder why a Napa winery would even bother making anything besides Cab. And yet, Castello di Amorosa has committed itself to producing Italian-style wines from Napa-grown grapes.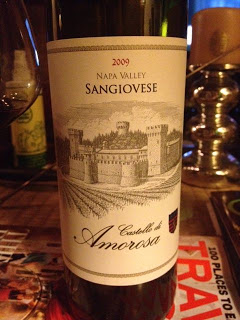 Charmed by the architecture and the chickens roaming the landscape, I felt transported to Tuscany when I visited the Castle in Calistoga for a brief tasting in 2010. Since then, the winery has hired a new consulting winemaker and the vineyards have matured in ways that do the Tuscan varieties justice.
I recently opened a bottle of the 2009 Castello di Amorosa Napa Valley Sangiovese. Upon my initial quaff, the wine was tight and restrained. I poured a little more through a WineSoiree and swirled it around in the glass while my eggplant parmesan warmed up in the oven. It wasn't long before this wine started singing a beautiful tune.
The perfume of rose petal, dried herbs and red cherry hits a very similar note to that of Chianti Classico. On the palate, notes of cranberry and currant shine alongside excellent acidity and dusty tannins. Despite it's Calistoga birthright, this wine definitely has an Old World sensibility.
The wine's high acid was the perfect match for the tomato sauce with my eggplant parmesan. It was a delightful pairing that continued to get better as the wine continued to flourish. By the end of my meal (and my second glass of wine), sweet aromas of black cherry and ripe plum dominated the nose of this medium-bodied Sangio. Rhubarb and cocoa became more pronounced on the palate, and the finish lingered with juicy cherry and spicy vanilla.