January 9, 2011 |
Jim Sullivan
Reserve Wines Score with Robert Parker
Leading international wine critic, Robert Parker was back in the Napa Valley recently at the invitation of the Napa Valley Vintners Association to taste and rate Napa Valley wines. Castello di Amorosa wasted no time in sharing our best 2008 wines (not yet released in the tasting room), including a barrel sample of the 2009 Napa Valley Cabernet Sauvignon. The results, published in his influential, "Wine Advocate" journal, proved Mr. Parker continues to like our wines and reflected it in his scores, rating each wine 90 points or greater for the second consecutive year.
The comments, or tasting notes, that accompany the scores are very important, perhaps even more important than the score itself. "The written commentary that accompanies the ratings is a better source of information regarding the wine's style and personality, its relative quality vis-a-vis its peers, and its value and aging potential than any score could ever indicate," states Parker in the "Wine Advocate."
The results of his tasting of Napa Valley wines were published in Wine Advocate #192, December, 2010. Il Barone receive a rating of 92 points. In his written commentary, he noted, " The 2008 Cabernet Sauvignon Il Barone (91% Cabernet Sauvignon, 5% Merlot, and 4% Petit Verdot) is a selection of the estate's finest lots of Cabernet Sauvignon. Graphite, creme de cassis, black currant and spice box aromas jump from the glass of this opaque ruby/purple-colored 2008. Expansive, rich, authoritative and elegant, with impressive texture and length as well as sweet tannin, it will be even better in 3-4 years, and should last for 15+."
The 2008 La Castellana Super Tuscan Blend received a similar outstanding review and a 90 point score. He wrote, "The 2008 La Castellana (71% Cabernet Sauvignon, 15% Merlot, and 14% Sangiovese) is a supple-textured, dense plum/ruby/purple-tinged wine offering notes of high class, unsmoked tobacco, sweet cherries, black currants, earth and spice. Medium to full-bodied, silky textured, complex and already delicious, it is ideal for drinking over the next 7-8 years."
Looking to the future, we submitted a barrel sample of 2009 Il Barone and 2009 Cabernet Sauvignon Napa Valley knowing full well these wines would not be receiving a score. Nonetheless, we were interested in what Mr. Parker thought about some of our best barrels of wine as selected by Dario Sattui, Brooks Painter, Winemaker; Assistant Winemaker, Peter Velleno, and President, Georg Salzner. Knowing the importance of his recent commentary, we are extremely excited about wines that will be not released in for another 2-3 years. Parker stated,"Barrel samples of the 2009 Il Barone and 2009 Cabernet Sauvignon Napa Valley revealed well-endowed, deeply colored wines with sweet tannins. They both possessed all the components needed to be as good as their 2008 and 2007 counterparts, but it's too early to pass judgment."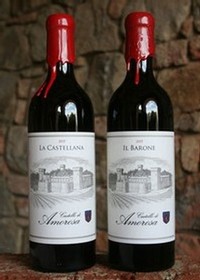 2007 La Castellana and Il Barone, available for purchase in the tasting room or on our website.
While the 2008 wines are not yet released, we are pleased to offer the 2007 Il Barone, 94 points, and La Castellana, 92 points in the Il Passito Room, our reserve wine tasting and wine club member room. Situated above the Courtyard, the Il Passito Room offers comfortable leather seating in which to enjoy our award-winning wines.