January 20, 2013 |
Jim Sullivan
Romantic love will be in full celebration as guests express their love for each other at Castello di Amorosa's cupid-friendly Royal Hearts Gala on February 16, 2013. A reception kicks off the festivities at 7:00 p.m. followed by dinner seating at 8:00 p.m. The winery's name embodies the spirit of this gala --- "Castle of Love." The evening will also include a performance of excerpts from Shakespeare's works on love.
Castello di Amorosa welcomes special guest chef Alejandra Schrader, a Top 10 Finalist in Fox's MasterChef USA Season 2. "To say we are thrilled to have Chef Schrader showcase her culinary skills is an understatement," said President, Georg Salzner. "I'm sure she'll dazzle us with menu she's creating. We are looking forward to the menu and the evening," he adds.
Currently a private chef in Los Angeles, Shrader has participated in high profile culinary festivals such as "Taste of Chicago," the world's largest, as well as food and wine festivals in Washington, D.C. and Palm Desert. "I have had the opportunity to learn directly from renowned chefs like Mary Sue Milliken from Border Grill and acclaimed Ricardo Zarate of Picca and Mo-Chica (Food & Wine Magazine's 2010 Best Chef)," Shrader explains.
"I was fortunate to compete and present my dishes to Judges Chef Gordon Ramsay, Chef Graham Elliot and Joe Bastianich," Chef Schrader explains. "From well over thirty thousand auditions all over the country, 100 people were brought to Los Angeles to compete for the title of MasterChef; and I was one of the lucky ones. I am proud to be part of the MasterChef family and it will be an honor to prepare special dishes for the guests at the Castello's Gala."
The Royal Hearts Gala will include a VIP reception with hors d'oeuvres in the Tasting Room followed by a 4-course meal in the Grand Barrel Room. Cost is $195 for the winery's wine club members and $225 for non-members.
Shakespeare in the Vines will perform selected scenes from Shakespeare's most romantic plays and sonnets during dinner. Shakespeare in the Vines is an acting troupe which specializes in the works of William Shakespeare.
A top finalist and fan favorite on FOX's popular show MasterChef with Gordon Ramsay, Alejandra has established her presence in the culinary world. She has performed cooking demonstrations all over the United States at prestigious food and wine festivals such as this year's Taste of Chicago, the largest food festival in the world. She has shared the culinary stage with renowned chefs like Roy Yamaguchi, Aaron Sanchez, Sara Moulton, Mark Peel and Graham Elliot. Since the end of MasterChef, Alejandra has done appearances on TV shows like Access Hollywood Live, Cafe CNN, NBC's Today in LA, and Primera Edición (Univision, Spanish TV). Her recipes and interviews have been featured in high profile magazines like InTouch Weekly and Taste of Home. She owns a private chef business in Los Angeles; she is also writing her first cookbook and working on exciting new media projects. More at http://www.alejandraschrader.com/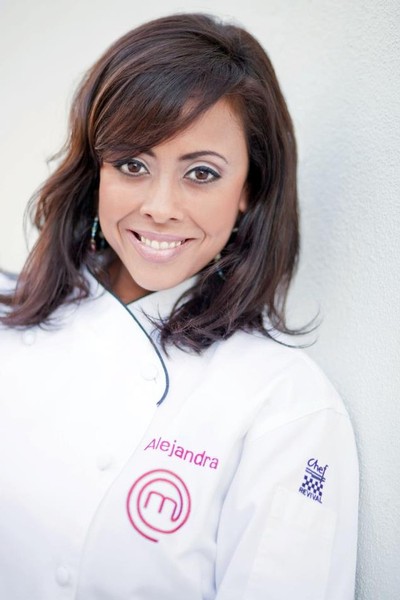 Chef Alejandra Schrader