February 14th is once again upon us, and whether you are celebrating Valentine's Day, Single's Awareness Day, or simply the weekend, it's a great occasion to celebrate with a glass (or two) of wine. But which wine would suit such an occasion? The answer: love the wine you're with.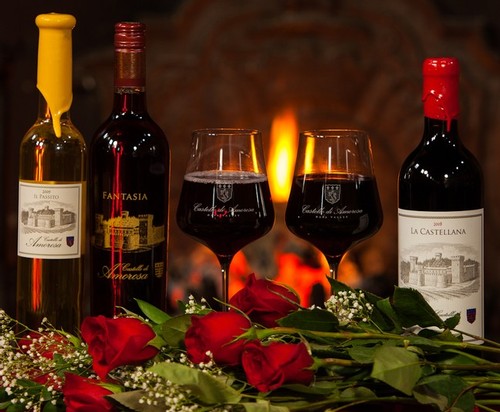 I hear a lot of people who come to tasting rooms looking for the "best" wine. People who have never visited Napa Valley and are searching for the famed bottles acclaimed by the likes of Robert Parker, Wine Spectator, and Wine Enthusiast. Cabernet Sauvignon is King here, so naturally when the person behind the tasting room bar pours a sample of their "best red wine," you're supposed to swirl, sip, and swoon over its magnificent structure and balance. If you love big, bold, tannin-punching Napa Valley Cabernet Sauvignon, by all means, swoon away (more often than not I'd be right there with you). If, however, you are one of those who prefers a lighter bodied red, or perhaps a white wine, or even a (gasp!) sweet wine, you might find yourself in a bit of a dilemma. Is it okay to politely pass up that singular bottle everyone around you is clamoring for and request the wine your taste buds are craving? Absolutely.
Wine, like love, is a highly sensory experience that can be very different for different people. Some wines you can taste and have that "ah-ha!" moment, while others leave you less than impressed. But this is one of the best things about wine tasting: there are no wrong answers. You can taste the exact same wine as the person next to you at your wine tasting tour, have two completely different opinions, and both be completely correct. Every person's taste buds are different; there can be no universal explanation for exactly what happens when you take that first sip. That single taste can transport you to a specific moment in time and place in a way other beverages rarely can. So find that bottle that transports you to your happiest of places, and whether you're raising a glass to your lover, your friend, or yourself, just remember to love the wine you're with!