Recently, Jeff of "Stay Rad Wine Blog" came "back to the Castle" to review our 2012 Mendocino County Pinot Grigio, pairing it with a scrumptious looking Mac n' Cheese. Here's what he had to say:
"Color: Very pale yellow. Think of the color of hay.
"Nose: Massive amounts of honeysuckle (maybe due to the 3.8 g/L of residual sugar) create a nice backdrop for the green apple and honeydew fruits. The nose isn't overly sweet. There are plenty of wet rocks to balance everything out.
"Taste: There is a surprisingly nice petrol note to this wine which provides for a very fun, viscous mouthfeel. As with most Pinot Grigios, there is a brightly acidic backbone to this wine that delivers a variety of citrus fruit flavors of lemon and lime zest. There is a nice combination of honey and minerality at play here too.
"Score: I get it. Castello di Amorosa makes wines consisting of mainly Italian varieties of grapes, and no self-respecting "Italian" winery would ever label a bottle as "Pinot Gris", but… This is not one of those ordinary, 20-dollar, flat-lemon-lime-soda-tasting, Italian Pinot Grigios that have been taking over your local super market in recent years. This drinks like one of those rich, subtle, and intriguing Oregonian Pinot Gris that I have been grooving on in recent months. Stylistically, these guys have done everything right with the grape they call the "Grey Pine". At 87+ points, you may want to introduce this Pinot Grigio to your favorite housewife."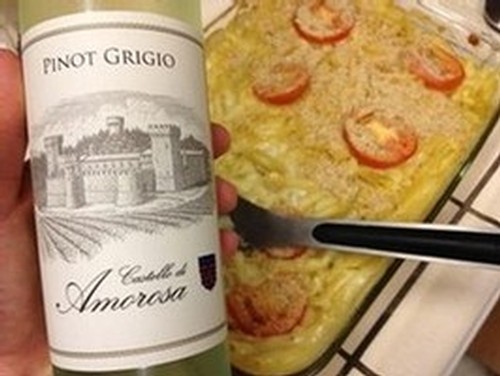 Check out the rest of his review on his blog here, and be sure to scroll down to see his fantastic comments about our 2011 Anderson Valley Pinot Noir as well!