July 7, 2010 |
Jim Sullivan
Hit Broadway Musical Cast of "Young Frankenstein, The Musical" Visits the Castello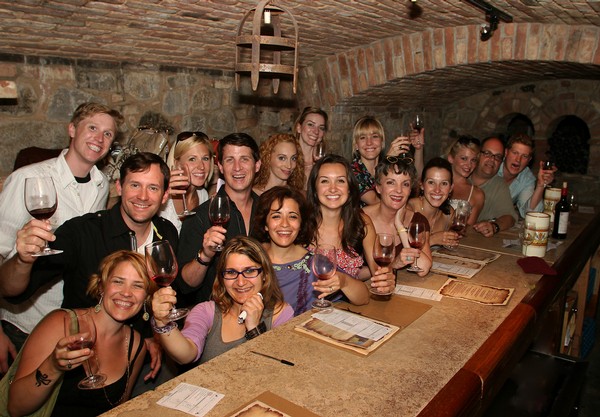 The cast of Young Frankenstein in the tasting room at Castello di Amorosa. (Photo: Jim Sullivan)
The cast of the highly-acclaimed, hit Broadway Musical, "The New Mel Brooks Musical: Young Frankenstein, The Musical," were in the Napa Valley and dropped by the Castello recently for a tour and tasting during one of their rare days off. Dr. Frederick Frankenstein, Elizabeth, Inga, The Monster, Frau Blucher, Inspector Kemp, Igor, Villagers and Ensemble- they were all here and in rare form.
Based on Mel Brooks comedy masterpiece, the story follows bright, young Dr. Frankenstein (that's Dr. Fronkensteen) as he attempts to complete his grandfather's masterwork and bring a corpse to life. (Now I see why we spent so much time in the Castello's Torture Chamber!) Together with his oddly-shaped and endearing helper Igor (that's Eye-gor), his curvaceous lab assistant, Inga and in spite of his incredibly self-involved madcap fianc, Elizabeth, Frankenstein succeeds in creating a monster-- but not without scary, and quite often hilarious complications.
There were no scary complications, no real monsters and, heavens, no corpse when they toured here. Just plenty of comedy. And I mean plenty.
Click on the link below to purchase ticket to the show and watch the video which includes Mel Brooks.
To purchase ticket and view the video