February 17, 2010 | Jim Sullivan
18th Annual Best of Napa & Sonoma Valleys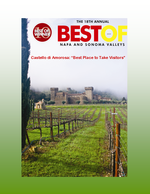 The Napa Valley, a premiere wine-region with world-class wines, is a beautiful place; a great place to take visitors.
We are were humbled when we heard that Castello di Amorosa was honored with the distinction of "2010 Best Place to Take Visitors" in the Best of Napa & Sonoma Valleys magazine-presented by 1440 KVON & 99.3 THE VINE.
With voting conducted by ballot and online, Castello di Amorosa, Dario Sattui's 13th century Tuscan-style castle and winery, joins a select group of establishments considered by locals as the best place to eat, drink and stay in the Napa Valley.