November 30, 2015 |
Jim Sullivan
I've spent a few years around various farms and ranches in Montana and Washington State working with livestock and performing various farming duties and I've had the opportunity to dine on some very good steak. I've been a real fan of steak ever since and so I was very excited to meet the folks at Best Filet Mignon and taste their product, paired with our Il Barone Reserve Cabernet Sauvignon, of course. You can read about our meeting in our last blog post, but let's talk about the NY Strip steaks.
Just when I thought I had tasted the finest filet mignon ever, our friends at Best Filet Mignon sent me a package of their NY Strip steaks and I didn't waste any time organizing a party and then heading to the grill. The steak was cooked to perfection which was great, but now all my friends have very high expectations when they come for dinner!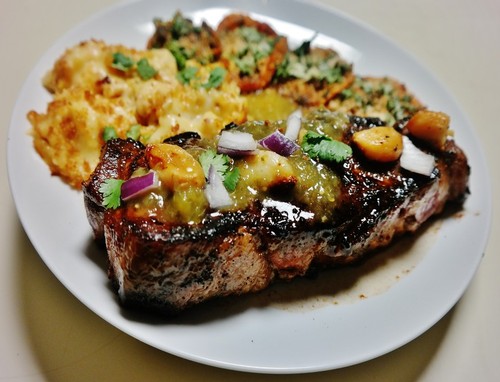 Sent overnight in an elegant shipping box, the NY Strip steaks, in their vacuum sealed pouch were very fresh, just like the filet mignon steaks I tasted earlier. Their steak is USDA prime and no hormones or antibiotics are ever used in the diet of their cattle.
What really impressed me was that Executive Chef, Phil Horn of Best Filet Mignon included a great recipe which I followed. Here it is. Follow every step and you won't be disappointed.
Roasted Garlic Dijon Mashed Potatoes
Ingredients
2 3/4 pounds medium-size Yukon Gold potatoes, peeled, quartered
4 cloves garlic
6 tablespoons (3/4 stick) butter, room temperature
2/3 cup (or more) whole milk
3 tablespoons Dijon mustard
Directions
Placed peeled garlic cloves in small piece of tin foil, drizzle with olive oil, pinch of salt, close and place in 425 degree oven for 40-50 minutes.
Cook potatoes in large pot of boiling salted water until very tender, about 25 minutes.
Drain well.
Return potatoes to pot. Add butter, roasted garlic cloves and mash potatoes until almost smooth.
Mix in 2/3 cup milk and Dijon mustard.
Season to taste with salt and pepper.
Parmesan Tomato Crisps
Ingredients
6 cups thinly sliced beefsteak tomatoes
2 tablespoons extra virgin olive oil
2 teaspoons sea salt
1 teaspoon garlic powder
2 tablespoons fresh chopped parsley
2 tablespoons grated Parmesan cheese
Directions
Gently drizzle and toss the sliced tomatoes in the olive oil to coat slices.
Place slices without overlapping onto dehydrator shelves or a baking pan.
If you are baking preheat oven to 325 degrees F.
In a small bowl whisk together the remaining ingredients.
Sprinkle mixture over each slice.
Depending on how thick the slices of tomato are, dehydrating could take anywhere from 12-24 hours.
If baking check every 30 minutes until edges show some charring, could take 2-3 hours.
To order these delicious NY Strip Steaks from Best Filet Mignon, head to their website. Normally, Best Filet Mignon offers their 8 pack of 10 oz. NY Strip steaks for $289, but for a limited time, friends of Castello di Amorosa will receive $100 off which includes free FedEx overnight shipping. Simply enter the code "cdany" at checkout.
And if that's not enough, you should know that BestFiletMignon.com is more than Filet Mignon. If you need guidance, ideas, or culinary advice, call the chef on his personal cell at 310-729-3264 or email him at chef@bestfiletmignon.com.
Stay tuned for more recipes from Chef Phil and wine pairing ideas from Castello di Amorosa.