November 15, 2016 |
Jim Sullivan
Ridesharing: Castello Style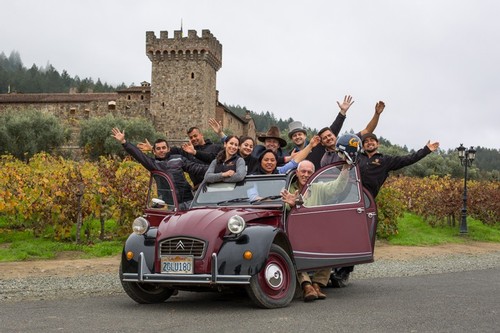 Dario Sattui (with the Cal Bears football helmet) and his team are serious about ridesharing. His Citroen 2CV which was originally designed to hold 2 farmers and haul 50 kilos of potatoes at 30 mph has been selected as the rideshare vehicle of choice for his enthusiastic employees.
CASTELLO DI AMOROSA OFFERS RIDE-SHARING FOR EMPLOYEES
Biggest program in Napa Valley
Frustrated with traffic in the Napa Valley? Wondering if any wineries are doing anything about it? Castello di Amorosa launched a ride sharing program in August and has seen the program succeed beyond expectations. The castle wishes to be part of the solution.
Approximately 30 castle employees have taken advantage of this program and are carpooling, cycling, walking or taking the bus to work. In this program drivers and passengers are incentivized with cash payments by the winery of $5 per round trip per passenger if there is less than a 15 mile commute and $10 per round trip per passenger for distances greater than 15 miles. The winery is proud to be reducing traffic generated by its employees on Napa County roads.
"We are delighted to be doing our part in cutting down on traffic and pollution," says winery founder Dario Sattui. "We may be the only winery offering a financial incentive to our employees to ride to work together," he continued. "We see this program growing at a great pace in the near future, and we're honored to be a leader in our community to make this a worthwhile project both for our employees, local citizens and 'Mother Nature,'" he added.
Napa County has studied local traffic patterns over the last several years and, in broad terms, has determined that most of the traffic is caused by people who work here but live somewhere else. "There are many factors---such as the lack of affordable housing---which cause the traffic which we all are noticing," Sattui adds. "If other wineries follow our lead and incentivize their employees to share their rides and take public transportation, we may be able to see a difference in a relatively short period of time," he continues.
In the County's study (http://www.nvta.ca.gov/travel-behavior-study), tourists accounted for only 21% of the County's traffic. The study estimated that 9% of all traffic is just passing through the County.
Castello di Amorosa will be celebrating its tenth anniversary in 2017. Building the winery was a fifteen year labor of love for Dario Sattui. The authentically built castle/winery used European artisans and materials such as antique bricks and roof tiles, hand-hewn timbers and doors, hand-forged iron gates, lamps and hardware and medieval construction techniques and over 8,000 tons of hand-chiseled local stone create this architectural gem.
The winery itself is a modern contrast to the castle. It contains the most advanced crushing and fermentation facilities, four underground levels and 24,000 square feet of caves for barrel aging.
Castello di Amorosa owns a total of 83 acres of estate vineyards in Napa, Sonoma and Mendocino counties. It sells its entire production of wine exclusively at the winery.
Castello di Amorosa is open seven days a week from 9:30 a.m. to 6:00 p.m. March-October and 9:30 a.m. to 5:00 p.m. November-February. Guests can come only to taste or can take a guided tour followed by tasting. Reservations---for tours only---are recommended.